Bird flu in Chilean man had concerning mutations, scientists say
Bird flu in Chilean man had concerning mutations, scientists say
By Joseph Ostapiuk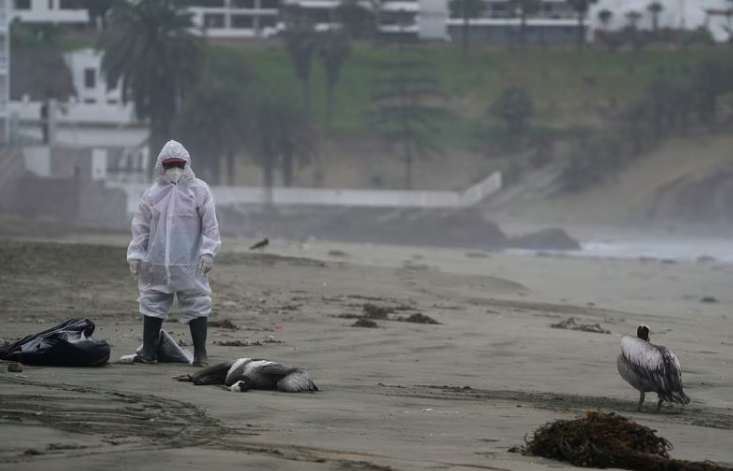 A municipal worker stands amid dead pelicans as a crew works to clear them from Santa Maria beach in Lima, Peru. (AP Photo/Guadalupe Pardo, File)AP

STATEN ISLAND, N.Y. — A Chilean man is infected with avian influenza, known as bird flu, that contains concerning mutations, officials said.
The Centers for Disease Control and Prevention (CDC) said past studies indicate the specific mutations to the PB2 gene present in the human case are evidence of adaptation to better spread among mammals.
A World Health Organization summary of the case indicated the mutations were only present in one hospitalized patient — a 53-year-old man. There is currently no evidence indicating the altered strain has spread to other people or developed the ability to mix with other viruses and evade current medication.
Experts said the bird flu's overall risk to people remains low.
The specific type of flu that has infected the man, Type A H5N1, usually spreads to people who have exposure to infected poultry.
Avian influenza has been ravaging bird flocks throughout the world, including in the United States, where the outbreak has become the worst in the country's history. Tens of millions of birds have been killed over the past two years as officials scramble to contain the spread, which experts believe has been aided by wild birds.
Because bird flu has been proliferating widely, the WHO said future sporadic human cases are expected.
Officials said people should avoid contact with animals that are sick or dead from unknown causes amid high rates of avian influenza in wild birds and some wild mammals. Any suspicious deaths should be reported to authorities.
"It's important to continue to look carefully at every instance of human infection," said Vivien Dugan, acting director of the Influenza Division within the CDC. "We need to remain vigilant for changes that would make these viruses more dangerous to people."