Building High-Performance Teams: Creating, Leading & Evaluating
Building High-Performance Teams: Creating, Leading & Evaluating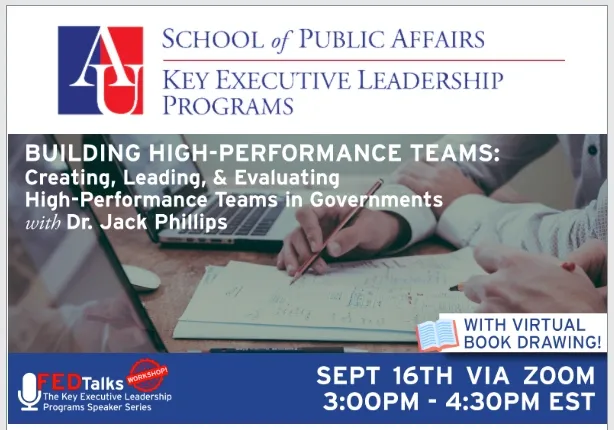 Dr. Jack Phillips
Chairman ROI Institute
FEDTalks WebsiteISPI WebsiteROI Institute Website
Registration Open!Building High-Performance Teams with Dr. Jack Phillips!
Every organization wants high-performance teams. But just what does this mean? How are high-performance teams created? How do you lead and evaluate them? This session will explore these issues, underscoring the three main influences for building high-performance teams:
The performance management system of the organization,
The extent that culture supports performance, and
The focus on innovation that encourages and supports innovative approaches to improved performance.
This session begins with examining these three issues and how they influence high-performance organizations. Next, the session will focus on leadership, how it has changed, and the new definition of leadership as it relates to high-performance organizations. Finally, the session will explore how these teams are evaluated, using objectives with key results to drive high performance.

Objectives: After attending this session, participants should be able to:
Define a high-performance team.
Explain how a performance management system should support high performance.
Define the role of culture in driving high-performance organizations.
Describe how innovation should support the high-performance teams.
Explain the leader's role in delivering high performance.
Evaluate high-performance teams at the impact and ROI levels.
About the SeriesThe Key Executive Leadership Programs and the International Society for Performance Improvement (ISPI) are partnering for the 2020 FEDTalks! This series centers on proven results-focused principles, practices and processes for the Performance Improvement Professional. Each workshop aligns with OPM's Executive Core Qualifications and the 10 Standards of Performance Improvement. A certificate will be awarded upon completion of the full series. All sessions will be held virtually via Zoom. Key Executive Leadership Programs | key.american.edu | key@american.edu