Effect of USAMRIID Shutdown on Research at Fort Detrick Unclear
Effect of USAMRIID Shutdown on Research at Fort Detrick Unclear
By Heather Mongilio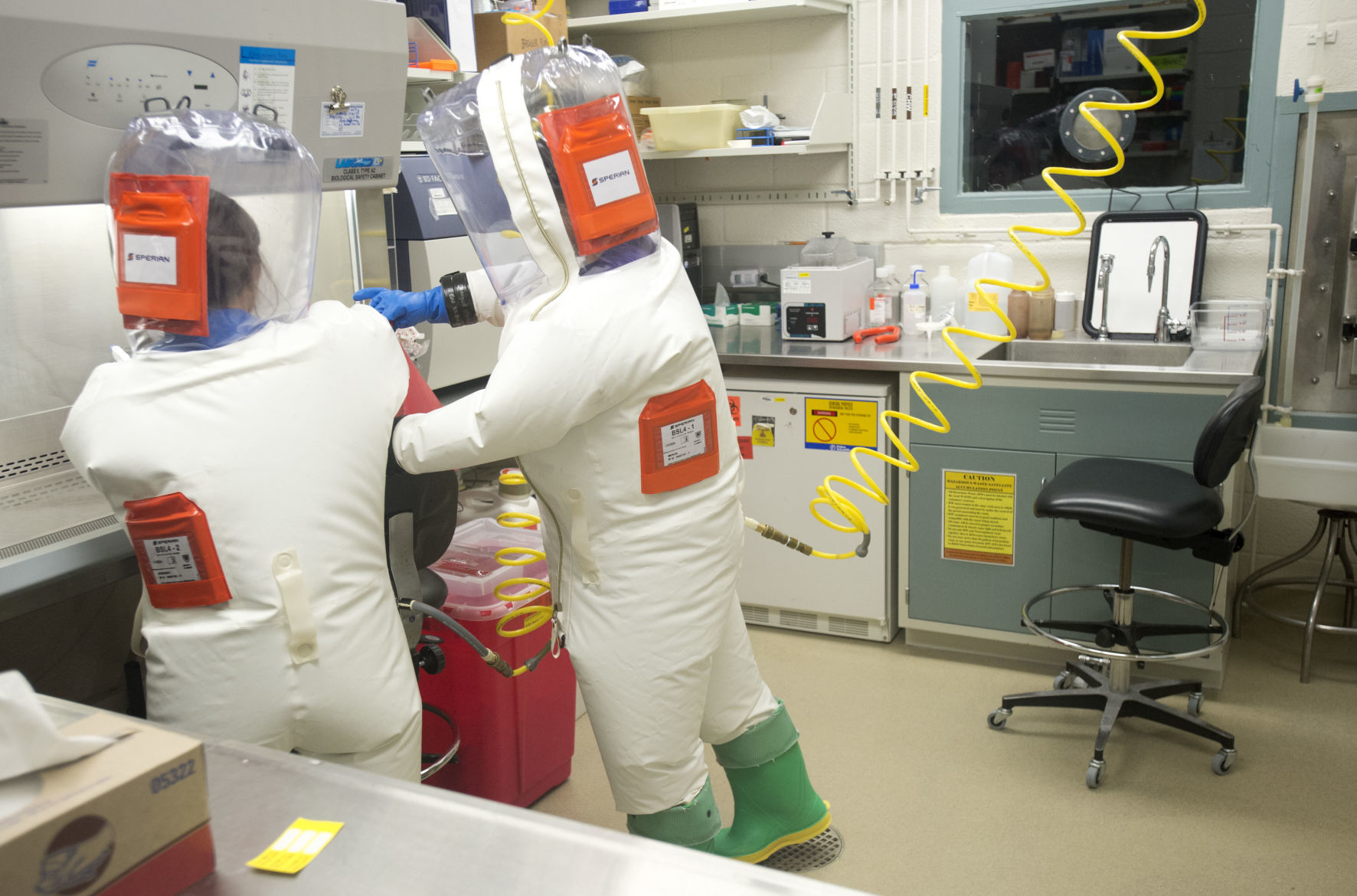 A decision by the Centers for Disease Control and Prevention to shut down a Fort Detrick military lab may affect research underway there. At the time of a cease and desist letter from the CDC, the U.S. Army Medical Research Institute of Infectious Diseases was working on a multi-year project to develop antibody-based therapies for four lethal viruses.
The project is led by the Albert Einstein College of Medicine, under the Monefiore Medical Center, and was awarded $22 million in April, according to a press release. Mapp Biopharmaceutical Inc., the University of Texas at Austin and Adimab LLC are also partners. The military lab has been offline since July when it received the CDC letter sent after a June inspection, according to previous News-Post reporting. The lab's registration in the Federal Select Agent Program was also suspended.
It is unclear how the research shutdown in July will affect the project. USAMRIID is working to meet benchmarks set by the CDC and the Army so that it can begin research again, but it is unclear how long that will take.
The goal of the five-year project was to create treatments for Crimean-Congo hemorrhagic fever virus, Andes virus, Sin Nombre virus and Puumala virus, which do not have any approved vaccines or treatments. Crimean-Congo hemorrhagic fever virus falls under the U.S. Department of Health and Human Services' select agents and toxins list.
No one at Albert Einstein College of Medicine was available to answer questions about USAMRIID's research shutdown, a spokeswoman said in an email.
The Albert Einstein project was just one of the many projects scientists at USAMRIID were working on.
In March, USAMRIID announced that the Food and Drug Administration provided an agreement that would allow an animal model to help develop remdesivir, which is used to treat Ebola. Remdesivir is developed by Gilead Sciences Inc., with assistance from USAMRIID and the CDC. USAMRIID is also part of a $11.7 million project with Tasso Inc., Ceres Nanosciences and George Mason University to create a universal surveillance platform for infectious disease outbreaks, announced in September 2017. Requests for comments to Gilead, Tasso and Ceres had not been returned as of 6 p.m. Wednesday. A spokeswoman for USAMRIID was still working to answer questions.
The Frederick County Health Department was notified after the cease and desist letter, around mid-July, according to Randall Culpepper, director of HealthCare Connection and Preparedness at the Frederick County Health Department. The department will meet with USAMRIID officials again this week. Whenever there is an issue or potential public health threat, USAMRIID informs the health department, he said. "And it's really rare that there is an actual threat, human or environmental threat," he said.
In addition to alerting the county health department, USAMRIID officials contacted the county executive, the Maryland Department of Health and Maryland Public Health Laboratory, as per protocol, County Executive Jan Gardner said in a voice mail response for comment. "Certainly, all my priority interest is related to public health and welfare," she said in the voice mail. "So I wanted to make sure that there was no threat to public health and welfare in our community or to the workers that work at Fort Detrick, who are generally members of our community."
Gardner said more specific questions should be referred to USAMRIID.